Play With Santa Claus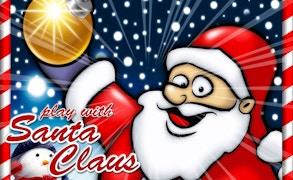 Play With Santa Claus
Description
"Play With Santa Claus" is a delightful, action-packed game that brings loads of festive cheer! Easy and intuitive, this game requires players to tap on appearing balloons to burst them, aiding Santa Claus in his merry mission. With captivating graphics and heartwarming holiday tunes, it's an absolute treat for all ages. Be warned, its addicting gameplay may make it hard for you to put it down!
How to play
The game controls are simple and easy to grasp - a single tap or click is required to pop the balloons appearing on the screen. The objective is to pop as many balloons as possible before they disappear, aiding Santa. As you progress through the game, new songs are unlocked and different gameplay modes become available.
Tips and Tricks
Popping multiple balloons in quick succession can give combo bonus points. Prioritizing faster balloon popping can therefore maximize your score. Also, keep your eyes open for the bonus games within! These offer extra opportunities for fun and high scores.
Features
Vibrant Christmas-based theme: Enjoy popping balloons amidst an enchanting winter background.
Musical Delight: Get lost in holiday-inspired tunes with every level cleared.
Multifaced Gameplay: Experience different playing modes including a bonus hidden one!
A Game for Everyone: A family-friendly game that ensures everyone is filled with the holiday spirit!
What are the best online games?