Planktoon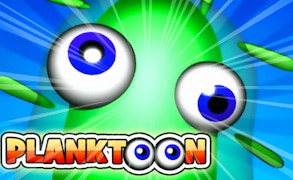 Planktoon
Description
Immerse yourself in the exhilarating world of Planktoon, an engaging arcade game that tasks you with collecting plenteous plankton generated by quirky green creatures. But beware, touching these critters can cost you a life! Your objective is to gather as much plankton as possible and set new high scores. Occasionally, there's a special red balloon that adds +100 points to your score when touched.
How to play
In Planktoon, the gameplay is relatively easy. You need to tap on the screen to collect the plankton while steering clear of the green creatures. Also, keep an eye out for the red balloons; tapping them will give you a considerable score boost! The key is to tap quickly but strategically, ensuring you avoid contact with the green creatures while gathering as much plankton as possible.
Tips and Tricks
Timing is crucial in Planktoon. Only tap when it's safe to do so, and always avoid touching the green creatures. Keep in mind that the red balloons are your ticket to higher scores; therefore, always prioritize them when they appear on the screen.
Features
Straightforward gameplay perfect for young players.
Impressive 3D graphics and animations which make for an immersive experience.
Cheerful sound effects and background music that add life to the game.
A vibrant, colorful environment sure to keep players engaged for hours on end.
What are the best online games?
Tags