Plane Racing Madness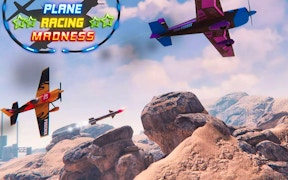 Plane Racing Madness
Dive into the exhilarating world of aerial warfare with Plane Racing Madness, a standout among airplane games that combines breath-taking racing dynamics with the thrill of survival combat. This isn't just one of your run-of-the-mill flying games or simulator games; it's a captivating blend of both genres injected with an adrenaline-pumped racing extravaganza.
As a game that sets itself apart in the racing genre, Plane Racing Madness lets you take control of a war-modified plane inspired by World War II legends. Imagine yourself as a daredevil pilot soaring through beautifully created 3D environments lined with danger at every corner, and each flight becomes more than just an ordinary commute; it becomes a thrilling escapade.
The real 3D physics environments add another level to this game, making each flight a visceral experience as you steer your plane around obstacles and enemy fire. Trust me when I say this - your driving games skills won't be enough. Here, survival is not just about speed; it's about precision and the audacity to take risks.
Moreover, the game offers exciting levels filled with power-ups to keep you engaged for hours on end. Each level increases in difficulty, testing the limits of your piloting skills as well as your strategic thinking.
The real magic lies in its addictive blend of competitive racing and strategic aerial combat, making Plane Racing Madness so much more than just another one of those skill games. It's a riveting ride that dares you to fly into danger and race against time. Don't miss out on this heart-pounding escapade; take off into Plane Racing Madness today!
Keywords: airplane games, driving games, flying games, simulator games, skill games
.
What are the best online games?