Pizza Maker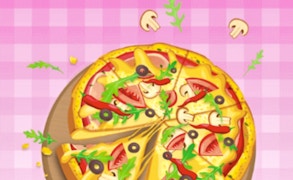 Pizza Maker
Get ready for a piping hot slice of fun with Pizza Maker, the perfect blend of creativity and culinary entertainment in the realm of games for kids and games for girls. Catering specifically to young, imaginative minds, this game delivers satisfaction on a silver platter, ripe with zesty enjoyment and bursting with endless topping possibilities.
In the exciting world of cooking games, Pizza Maker sets itself apart by allowing players to truly take control. This isn't just about following recipes - it's about creating your own perfect pizza! From a smorgasbord of ingredients, to the wonderful aroma that fills your virtual kitchen as you bake it in the oven; every aspect of this game is designed to delight your senses and spark your creativity.
One thing is clear, though: Pizza Maker isn't just another stale entry in the overcrowded cooking game market. No, this game rises like a well-kneaded dough in the oven, full of promise and pepperoni. It's an inclusive experience - a perfect example of games for girls, yet equally satisfying as a unisex choice among games for kids.
The ultimate aim of Pizza Maker is to create a mouth-watering pizza that makes your taste buds tingle even inside a digital environment. It's everything a child could want from an imaginative cooking game: simple controls, vibrant visuals, and an emphasis on creativity that makes each play session unique. Fun slicing mechanics round out the experience, adding another layer of enjoyment to an already satisfying dish.
If you are looking for wholesome family-friendly gaming or something fresh among kids puzzle games, then Pizza Maker might just be what you're looking for. With its focus on creativity and fun gameplay, it serves up slices of joy that will keep you coming back for more!
What are the best online games?