Pixie Accident ER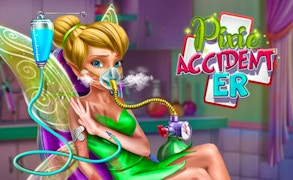 Pixie Accident ER
Please welcome one of the most delightful games for girls that has graced our digital world recently - Pixie Accident ER. This magical offering is a gem among operation games that enhance your youngster's imagination, comprehension, and problem-solving skills.
The narrative is intriguing. Our beloved Pixie, a playful woodland fairy, has a mishap in the mystical forest. The trees, notorious for changing their positions under the moonlight's charm, caused an accident that landed Pixie in the emergency room. With a rich narrative like this, every child will find herself immersed in this enchanting tale.
The objective of Pixie Accident ER is to help Pixie recover from her misfortunes by administering the right treatment using an array of awesome tools. But it's not just about helping Pixie; it's also about eliminating those pesky germs by laser! What could possibly be more fun than zapping germs away?
This game combines education and entertainment seamlessly. While your little one plays doctor to Pixie, she learns about medical procedures and equipment – all while having an absolute blast! The gameplay is intuitive and easy to navigate even for the younger ones.
The graphics are beautifully engaging with vibrant colors and adorable characters that your child will fall in love with. The sound effects add a special touch to this magical game environment.
In conclusion, Pixie Accident ER is well worth your time and investment for its educational value disguised in pure fun. It not only satisfies my criteria for excellent games for girls, but it also stands as one of the most engaging operation games out there. Treat your little girl to this magical medical mystery today!
What are the best online games?