Pixelpool - 2 Player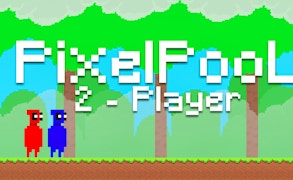 Pixelpool - 2 Player
Description
Join the pixelated world of Pixelpool - 2 Player and embark on an adventure with the blue and red Pixelpool members. They aim to reach the door safely while avoiding various dangers across their path. Each level is packed with tricky obstacles, requiring accurate jumps and sharp reflexes. Their journey is treacherous but reaching their goal together is the ultimate test of unity and skill.
How to Play
To play, use the arrow keys to move the blue player and the WASD keys for the red player. Time your jumps carefully to avoid hazards and reach your goal. Advance through each stage by successfully reaching the door without losing your lives. Remember, teamwork is crucial to get through this game.
Tips and Tricks
In Pixelpool - 2 Player, timing is crucial. Make sure you understand each obstacle's pattern before making your move. Coordinate between both players, as certain situations might require one to help or wait for the other. Keep practicing your jumping skills; precision is key in this game.
Features
Co-op gameplay: Play together with a friend on one device.
Pixellated Graphics: Enjoy retro-style pixel art throughout the game.
Varying Difficulty Levels: As the stages progress, so does the complexity of obstacles.
Addictive Gameplay: With challenging mechanics, this game will keep you hooked for hours!
What are the best online games?