Pixelcraft Differences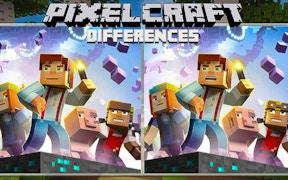 Pixelcraft Differences
Leap into the pixelated world of imagination with the captivating brain game, Pixelcraft Differences. This crafty puzzle is a staple of the tantalising Minecraft Games collection, enticing pixel game enthusiasts with its visually striking graphics and mind-bending tasks.
The game transverses ten spellbinding levels filled with familiar Minecraft characters, transporting gamers into a realm where attention to detail is both challenged and treasured. Every level presents a new set of differences for you to discover, keeping your grey cells working overtime.
What sets this intriguing masterpiece apart from ordinary memory games is its enigmatic design. Each difference discovered is marked by a vibrant red circle, forbidding you from revisiting previously found differences and nudging you on to fresh discoveries. Beware of mindless clicking though! The game keeps you on your toes by issuing warnings for aimless explorations.
The allure of Pixelcraft Differences lies in the minute, barely noticeable differences scattered throughout each level. It's no easy feat spotting these hidden gems; expect a real workout for your memory and attention capabilities. It's a game that truly tests how well you can focus under pressure.
In summary, Pixelcraft Differences fuses compelling gameplay with stunning graphics to create an immersive environment that challenges your cognitive abilities. It's an exciting addition to the genre of pixel games, taking you on an electrifying ride through charming Minecraft landscapes.
Journey beyond mundane gaming experiences to encounter a world where every minor detail matters. Pixelcraft Differences - a truly riveting combination of mental exertion and visual delight that will keep you coming back for more.
What are the best online games?