Pixel Time Summer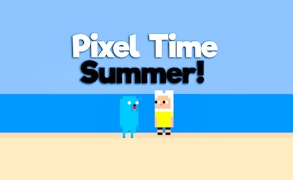 Pixel Time Summer
Description
In Pixel Time Summer, immerse yourself in an engaging arcade experience. This adventurous two-player game boasts six diverse levels that take you through a vibrant pixelated world. Together with your friend, set out on a mission to conquer various challenges in this retro-themed escapade. The quest is filled with fun, suspense, and requires strategic cooperation to progress through its intricately designed stages.
How to Play
The game's controls are hence divided for two players where one uses the WASD keys and the other relies on the Arrow keys for character movement. The distinct functionality of double jump is also available which can be executed by pressing the jump key twice rapidly. Cooperation and timing are essential for overcoming obstacles and clearing levels.
Tips and Tricks
Rely on cooperative gameplay to succeed - communication is key! Remember, not all obstacles need a double jump, sometimes a single leap does the trick better. Always be observant of your surroundings as it gives you hints about the forthcoming challenges or bonus elements within the level.
Features
Vibrant Pixelated Game Graphics.
Six Diverse Levels to Challenge Your Skills.
TWO Player Mode for Cooperative Gameplay.
Intricately Designed Obstacles & Challenges.
Retro-Themed Game Environment.
What are the best online games?