Pixel Car Crash Demolition v1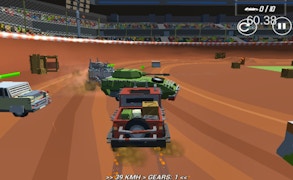 Pixel Car Crash Demolition v1
Are you a speed demon who lives for the thrill of car games and truck games? Are you compelled by the adrenaline rush of a good battle game? If the answer is yes, then buckle up because Pixel Car Crash Demolition v1 will take you on an exhilarating ride like no other.
Dive into 10 levels of heart-pounding action where your mission is to decimate pixel cars in your path. This game exemplifies the sheer power and thrill synonymous with the best drifting games. Each collision earns you points that unlock cooler and more impressive cars, ensuring an addictive gaming experience that keeps you coming back for more.
In Pixel Car Crash Demolition v1, there's no pedestrian stroll down the track. Instead, it's a fast-and-furious demolition derby that will have your heart racing at 200 mph. It pushes the boundaries of traditional driving games, proving itself as a standout title in the sea of car games.
The pixelated graphics may have a charming retro element, but don't let that fool you. The game delivers high-octane gameplay with hard-hitting crashes, adrenaline-pumping speed boosts, and fierce rivalries. It's like taking part in an action-packed blockbuster movie sequence.
If you're all about thrilling chases, strategic drifts, and triumphant wins, then this action-packed combination of car games and battle games is right up your alley. Pixel Car Crash Demolition v1 breaks away from standard driving games to deliver a unique mix of excitement and strategy–a must-play title for all fans of racing games!
What are the best online games?