Pirates! The Match 3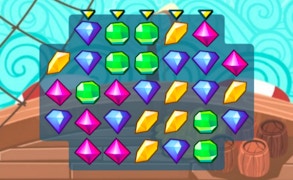 Pirates! The Match 3
Arr mateys, welcome to a world of sparkling jewels and daring adventures in Pirates! The Match 3, a captivating addition to the realm of pirate games and bejeweled games. This intriguing blend of classic match 3 games and jewel games will have ye navigating treacherous seas and hunting for long-lost treasure in no time.
At the core of Pirates! The Match 3 is the familiar mechanic of matching at least 3 gems of the same type to remove them from the field. But don't let its simplicity fool you. Like an unassuming treasure chest bursting with gold doubloons, this game is rich with features designed to test yer wits and skills.
Each level has its own tasks that need to be completed, adding an extra layer of complexity often missed in other match 3 games. It's not just about swappin' gems; it's about developing a strategy to ensure each swap moves ye closer to victory, making it feel more like a puzzle than a simple jewel game.
For those seeking glory and recognition, try collecting all stars scattered throughout the levels. This auxiliary challenge is sure to keep the most hardened pirates on their toes, seeking perfection at every turn. Herein lies the beauty of Pirates! The Match 3—despite its seemingly straightforward gameplay, there are layers upon layers to explore and conquer.
So sharpen yer swords and get ready for an exhilarating adventure that's more addictive than a sailor's grog—Pirates! The Match 3 isn't just another addition to your collection of pirate games or bejeweled games; it's a gem among jewel games waiting to be discovered.
What are the best online games?