Pirate Jack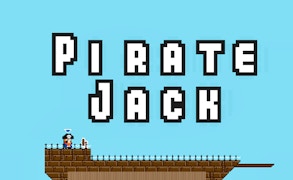 Pirate Jack
Description
Embark on a thrilling adventure with Pirate Jack, a fun pixelated pirate game. The game revolves around Pirate Jack, who's stranded on his ship full of invaders looking to seize his treasure chest. Your mission is to guide him, dodging dangerous obstacles and defeating fierce pirates. The game is filled with engaging challenges that keep the adrenaline pumping as you strive to reach the precious chest.
How to Play
The game's control system is quite straightforward. You can navigate Jack around his ship using WASD keys for desktop users, while mobile users can take advantage of Touch Control. In addition, a Double Jump feature is available which comes in handy when dealing with harder obstacles or enemies.
Tips and Tricks
To increase your chances of success in Pirate Jack, ensure to make good use of the double jump function. This skill helps you evade attacks and reach difficult places easily. Also, strategize your movements carefully to avoid encountering multiple enemies at once.
Features
Pixellated Art Style: Offers an engaging aesthetic experience reminiscent of classic games.
Friendly Controls: Easy-to-use game controls suitable for both desktop and mobile gamers.
Exciting Adventure: Features numerous challenges that maintain a high level of excitement throughout the gameplay.
Multiple Enemies: Encounter various pirate adversaries each wielding dangerous guns.
What are the best online games?