Pirate Bombs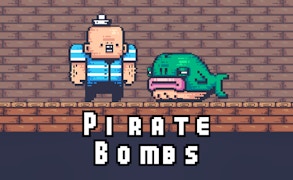 Pirate Bombs
Description
In Pirate Bombs, you find yourself in the swashbuckling boots of Jack, a lively sea rogue dressed in blue and white stripes. Your thrilling adventure takes place amongst deadly green whales where survival is your ultimate goal. Be quick to jump over these underwater beasts to eliminate them and secure your path forward. Collect bombs and find your way to the exit door while keeping an eye on the rising water level, for a moment's distraction could lead to a watery demise.
How to play
This game offers simple control options using either WASD & Arrow Keys on the keyboard or Mobile Touch Control for mobile users. Make Jack leap over the whales to defeat them and collect any bombs you come across in the process. Keep moving forward towards the door while maintaining a brisk pace to avoid drowning in the constantly rising water levels.
Tips and Tricks
The water won't wait! It's all about timing your jumps accurately to triumph over the whales without losing any precious time. Collecting bombs increases your score, but make survival your priority. Keep an eye out for patterns in whale movement and plan your path meticulously.
Features
Cute pixel art graphics set in a pirate theme.
Simple controls that can be managed with a keyboard or touch screen.
A thrilling survival gameplay with increasing difficulty.
An opportunity to challenge yourself against rising water levels and deadly green whales.
What are the best online games?