Pinkii 2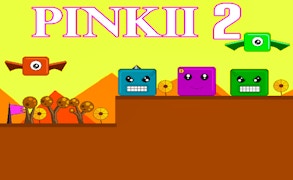 Pinkii 2
Description
In Pinkii 2, you embark on an exhilarating journey across increasingly challenging terrains. This 2D platformer requires you to gather yellow flowers while eluding flying monsters. Your endpoint is the pink flag marking the end of each of the game's 8 levels. Each level brings more complexity, pushing you to enhance your skills and strategy.
How to play
Simple and intuitive controls are a hallmark of Pinkii 2. Use either "WASD" or "Arrow keys" to maneuver your character around obstacles and enemies. An invaluable feature is the double jump, which can be performed by pressing "W" or the "Up" arrow key twice in quick succession. Each level concludes when you reach the pink flag.
Tips and Tricks
To master Pinkii 2, strategic use of the double jump is critical, as it allows you to evade enemies easily and reach difficult places. Always stay vigilant for incoming flying monsters and remember that sometimes fast reactions can make the difference between life and death in this game.
Features
Classic 2D platformer game with modern twists.
New enemies introduced throughout each of the 8 progressively difficult levels.
Ability to perform double jumps for an added layer of complexity and fun.
Vibrant visuals that make gameplay engaging and enjoyable.
What are the best online games?