Pig Ball impostor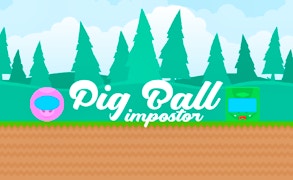 Pig Ball impostor
Description
Welcome to the exhilarating world of Pig Ball Impostor, a charming pixelated arcade game set in an enchanting forest. As a heroic pig ball, you're equipped with a unique space suit and tasked with hunting down impostors that come in squared forms. Unleash your skills across 10 thrilling levels, collecting stars and destroying monsters to progress. Every level is full of action and suspense, promising an unforgettable gaming journey.
How to Play
The controls for Pig Ball Impostor are straightforward: use the WASD keys to navigate through the game. Surviving requires keen observational skills as enemies lurk around every corner. You can also conquer monsters by climbing on top of them and striking them down. Not only is there a double jump feature, but you also have the power to collect stars granting passage to subsequent levels.
Tips and Tricks
Remain vigilant for the square-shaped impostors. Be sure to master the double jump technique for overcoming taller obstacles and attacking monsters from above. Remember that procuring all three stars is mandatory for level progression, so leave no stone unturned during your searches.
Features
Detailed Pixelated Graphics: Adds a nostalgic touch and charm to gameplay.
10 Exciting Levels: Each level is unique, offering new challenges to conquer.
Innovative Gameplay Mechanics: The double jump feature adds more depth and complexity.
Variety of Enemies: From square impostors to monstrous creatures, each enemy poses different threats.
What are the best online games?