Pig Adventure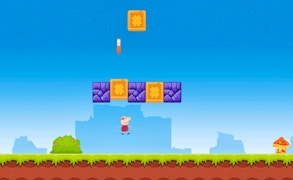 Pig Adventure
Embark on a memorable journey back to the golden era of arcade gaming with the adorable game, Pig Adventure. This lively 2D side-scrolling game promises a lot of fun with its unique blend of fast-paced puzzle elements and intriguing exploration. Perfect for those who relish in animal games and monster games, Pig Adventure provides an intense, action-packed escapade unlike any other.
As soon as you dive into the game, it instantly reminds you of classic Retro Games like Super Mario, Donkey Kong, and Pac-Man. With its vintage pixel graphics and nostalgic 8-bit soundtrack, this game is a homage to the fondly remembered Mario Games from your youth. It's fascinating how Pig Adventure skillfully merges retro arcade mechanics with modern design elements to produce an authentic gaming experience.
In Pig Adventure, you are thrust into an enchanting world filled with perilous monsters and challenging puzzles. Your mission? Guide your pig through various levels while avoiding dangerous obstacles! The game offers plenty of power-ups to keep gameplay fresh and engaging – from invincibility stars to fire flowers that shoot fireballs at enemies. Overcoming obstacles requires quick reflexes and strategic thinking, making this game both thrilling and mentally stimulating.
In a nutshell, Pig Adventure is a delightful fusion of old-school charm and modern sensibilities. For gamers who appreciate captivating storylines combined with engaging gameplay - this is your ticket back to an era where simplicity was the ultimate sophistication in gaming. In a world buzzing with high-definition graphics and advanced gameplay options, it's refreshing to see a game like Pig Adventure that rekindles the magic of classic arcade gaming.
If you're a fan of nostalgic games that allow you to kick back, relax, and enjoy some good old-fashioned fun – then don't hesitate to embark on this unforgettable piggy adventure!
What are the best online games?