Pieces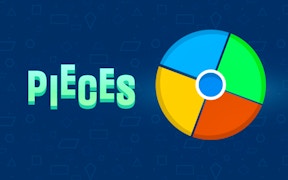 Pieces
Description
In Pieces, you are tasked with the action-packed mission of shooting a particle that matches the color of an incoming ball. It's a vibrant, fast-paced arcade game that challenges your reflexes and color recognition skills. The task may appear simple, but it is far from easy as the pace of the game increases over time. You'll have to be quick, precise, and attentive to stay in the game.
How to Play
To control your particle shooter in Pieces, simply tap on your device's screen. When a ball approaches, observe its color and shoot a particle of the same color to destroy it. This requires fast reaction times as new balls will keep coming at an increasing speed. Score points for each correct hit, with higher scores rewarding more precise and faster responses.
Tips and Tricks
Timing is everything in Pieces. Keep an eye on the colors of both your particles and coming balls - match them as quickly as possible for maximum points. Avoid random shooting - precision is key. As you progress, balls will approach quicker - don't let this throw off your rhythm!
Features
Fast-paced, addictive gameplay requiring quick reactions and precision.
Beautiful design with vibrant colors enhances visual experience.
Different colored balls for challenging gameplay diversity.
Increasing difficulty levels as you progress through the game.
What are the best online games?
Tags