Phone Transform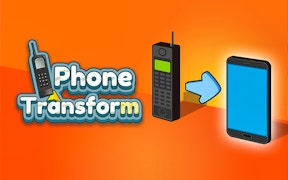 Phone Transform
Embrace your inner techno-archaeologist with the latest craze in Hyper Casual Games- Phone Transform. This unique and engaging blend of arcade history and futuristic tech gives you an energetic and absorbing experience that will leave you hooked for hours.
Phone Transform manipulates the well-trodden path of running games, adding a delightful twist to create a new genre of number games. In this game, you begin your journey with a cell phone from yesteryears, traversing through time by dodging obstacles and upgrading your phone model as you proceed.
Here's where the adrenaline kicks in: As you set on your exciting journey of evolution, beware of unpredictable obstacles that threaten to hamper your progress, causing potential degradation to your beloved device. The only way to stay ahead? Quick reflexes and strategy. Swiftly making your way through the green doors marked with plus signs is key—and it brings about one of the most satisfying upgrades in casual gaming history.
The question at the heart of Phone Transform - How many years can you evolve? It's an innovative premise that turns nostalgic relic into coveted prize. The game's appeal lies not just in its easy mechanics but also its unique concept that makes technology history approachable and fun.
If you're searching for a fresh take on Hyper Casual Games, particularly those with an affinity for running games or number games, look no further than Phone Transform. Get ready to lose yourself in this captivating journey of mobile evolution. Try it out now – it promises endless fun!
What are the best online games?