Perfect Hit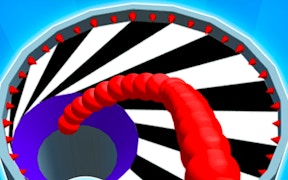 Perfect Hit
Immerse yourself in a world of thrilling gameplay with the latest arcade sensation, Perfect Hit. This dynamic ball game is not only addictive but also puts your agility to the ultimate test.
The concept of Perfect Hit revolves around controlling a ball on a twisty roll, maneuvering it skillfully to avoid random obstacles. What sets this game apart from the rest in its genre is its unpredictability. The balls' position on the road switches randomly, ramping up the difficulty level and ensuring that every gaming session is a unique experience.
This game draws inspiration from popular running games and snake games, blending in elements from both to create an unparalleled gaming experience. As you navigate this exciting game world, you'll find yourself engrossed in its intensity and hooked on its complexity.
Apart from testing your reflexes, Perfect Hit also doubles up as a skill game, challenging your precision, timing, and strategy. As an arcade game with twisty roll balls that switch their places randomly, it provides thrilling moments laced with anticipation as you strategically plan your moves while simultaneously managing quick reflexes.
Perfect Hit's smooth controls coupled with riveting graphics amplify the arcade experience manifold. Its addictive gameplay keeps you coming back for more while pushing your boundaries each time. The enticing challenge it presents makes you want to outdo yourself over and over again.
If you're a fan of running games or snake games or looking to try something unique in the arena of skill games, then Perfect Hit provides an enticing fusion of these genres. It's time to put your reflexes and skills to test. Are you ready for this adrenaline-pumping ride?
What are the best online games?