Paulie the Pizza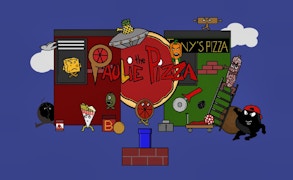 Paulie the Pizza
Description
In Paulie the Pizza, you embody a spirited pizza slice navigating a hungry world. Your aim is to dodge being eaten and outwit various culinary adversaries. This lively arcade game combines fast-paced platforming with mind-bending puzzles and formidable bosses. Leap, sprint, and problem-solve your way through levels packed with quirky danger and mouth-watering detail.
How to play
Paulie the Pizza utilizes simple keyboard controls for movement. To steer Paulie and execute leaps, use the arrow keys or "W", "A", "S", "D". To progress in the game, you must strategize smartly to solve intricate puzzles and defeat bosses that stand in your path. Maintain a fast pace to elude being devoured!
Tips and Tricks
Maintain momentum while jumping over obstacles for maximum distance and speed. Always stay vigilant of your surroundings; danger can appear from any side! Use environmental elements such as blocks or springs to solve puzzles and outsmart your enemies.
Features
An engaging blend of arcade-style platforming and puzzle-solving.
A unique protagonist - a brave pizza slice called Paulie.
Eclectic food-themed opponents, including challenging bosses.
Precise controls ensuring smooth navigation and interactions.
A vibrant pixelated art style that is sure to whet your appetite!
What are the best online games?