Path Paint 3D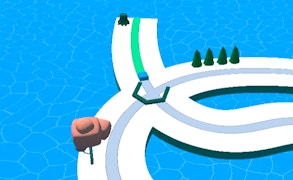 Path Paint 3D
Step into the captivating world of Path Paint 3D, a truly immersive game that fuses the thrill of arcade games with the imagination-stoking fun of drawing games. This mesmerising piece of digital artistry offers endless hours of entertainment for all lovers of hyper casual games, promising a on-the-go joyride that celebrates the beauty of simplicity.
Path Paint 3D beautifully combines elements of both action and creativity, offering a unique gaming experience where you fill the blank canvas of the road with color, one click at a time. The premise is simple but addictive: Click, hold, and watch as your path unfolds in a vibrant trail.
The control mechanism is wonderfully intuitive; just click your mouse or press space to start the game. As you journey through this refreshingly uncluttered interface, your heart will pound as you anxiously strive to paint every inch of road before reaching the finish line. The pressure adds an exciting layer to this otherwise serene game.
The 3D graphics are visually stunning yet modest, while the level design keeps you engaged without feeling overwhelming. It offers multi-level challenges that reward accuracy over speed - an aspect that sets it miles apart from other typical arcade games.
In conclusion, Path Paint 3D brings a distinct flavor to hyper casual gaming. It's not just about painting a path; it's about creating your own journey and relishing every stroke along the way. Nostalgic for some, innovative for others. Path Paint 3D encapsulates what it truly means to be a versatile yet uncomplicated masterpiece in the world of drawing games.
What are the best online games?