Papa's Cupcake - Bake & Sweet Shop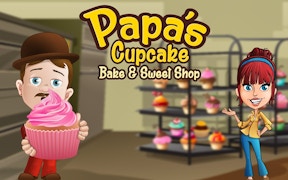 Papa's Cupcake - Bake & Sweet Shop
Indulge in the tantalizingly sweet world of Papa's Cupcake - Bake & Sweet Shop, a delightful concoction barely contained within the realm of cooking games. An irresistible experience designed meticulously for our young gaming generation, it serves up a delicious way to spark creativity and build strategy. Ideally pitched as among the best Games for Kids and Games for Girls, this game is a one-way ticket into a mesmerizing culinary adventure.
The lifeblood of your virtual business in Papa's Cupcake - Bake & Sweet Shop lies within your Cupcake Parlour, reputed as the finest in town. The game dishes out an impossible-to-resist challenge – keep your soaring customer influx satisfied and grow your business simultaneously. Some orders are painstakingly specific, putting your obedience to test, while others provide an expanse for you to let your creative juices flow uninhibited. These myriad challenges coupled with a countdown timer stirs up an electrifying race against time, making every gameplay moment unforgettable.
A unique and engaging feature presented by this game is that each successfully completed order adds coins into your virtual treasury. Not simply there for show, these coins hold the power to expand and grow your business within the game's vibrant world, bringing about an engaging blend of strategy and resource management elements.
In summing up, Papa's Cupcake - Bake & Sweet Shop undeniably succeeds in presenting an entertaining yet educational journey. It serves to bring out the culinary artist in every child while simultaneously teaching them time management and entrepreneurial skills. Infused with sweet dessert themes and high replay value, this is one cupcake you won't regret biting into!
What are the best online games?