Panda Manager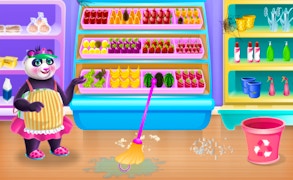 Panda Manager
Delight in the wonderful world of the Panda Manager, a game that seamlessly integrates elements from popular tags such as Games for Girls, Games for Kids, Management Games, and Animal Games.
This unique gaming experience transports you into the enchanting universe of a Panda family who operates a bustling grocery store. Your task? Guide this loveable panda clan to success by harnessing your management skills in an exciting context that is both challenging and rewarding.
The Panda Manager is not just about managing a grocery store; it's about managing the ups and downs of life itself. Just like managing a real business, you'll have to handle supplier relationships, restocking, organizing shelves, and making sure your customers leave with a smile. It's everything you want from Management Games, brilliantly wrapped up in an irresistibly adorable panda setting.
This game offers an ideal blend of fun and education, setting it apart from other typical Games for Kids. It's also perfect as a Game for Girls, as it invites them to take on leadership roles usually reserved for adults. Plus, who can resist the charm of these endearing pandas?
The beautiful art style creates an immersive environment that will keep players hooked, while the intuitive interface ensures even younger gamers won't get lost. Even if you're not typically into animal games, this delightful game will undoubtedly win you over with its heartwarming characters and engaging gameplay.
In conclusion, Panda Manager hits all the right notes: it's charming, educational, full of heart, and packed with intriguing management challenges. Whether you're looking for new games for girls, kids games or animal-themed adventures to sink your teeth into - look no further than Panda Manager!
What are the best online games?