Owl Memory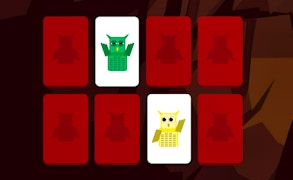 Owl Memory
Immerse yourself in an enchanting world of intellect, memory and wisdom with the fascinating Owl Memory game. Part of children's favourite animal games, this incredible game gives a delightful twist to traditional memory and brain training exercises, making it perfect for kids.
The premise of Owl Memory is simple yet intriguing: flip over tiles and pair them up. The challenge lies not in the task itself, but in accomplishing it in as few moves as possible. The elegance lies in its simplicity, drawing you back repeatedly to play, learn and improve. With 4 captivating levels to conquer, there is always a new challenge awaiting.
This game not only indulges your love for Games for Kids, but also tests your memory in an engaging environment featuring your favourite animals. It's not just about fun, it's about sharpening your mind. Handle the mouse or touchscreen to flip tiles and find pairs - a test for both your reflexes and your memory.
Owl Memory isn't mere entertainment - it's a highly interactive exercise for the burgeoning mind. In this 'flight' into wisdom with our owl friends, we entertain ourselves while enhancing our cognitive abilities and concentration power.
If you love games that make you think or are looking for something that combines enjoyment with learning for your young ones, look no further than this fantastic example of creative brain games. So why wait? Step into the captivating labyrinth of puzzles and mysteries that is Owl Memory, one of the most enthralling memory games around!
What are the best online games?