Owl and Rabbit Fashion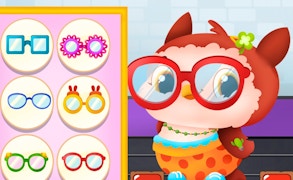 Owl and Rabbit Fashion
If you're constantly on the hunt for the perfect Games for Kids that uniquely blend creativity, fun and learning, then your quest ends with Owl and Rabbit Fashion. This game is a delightful addition to our collection of animal games, specially designed to capture the imagination of your little ones, improving their cognitive abilities while providing endless entertainment.
As one of our top-rated fashion games, Owl and Rabbit Fashion is more than just a standard dress up game. It's an enchanting world where kids can explore their sense of fashion by dressing up adorable animal characters. The owl and rabbit, being the main characters, offer a great platform for kids to experiment with different styles and colors which extends beyond the typical royal princesses or superheroes dress up themes.
The intuitive interface ensures even the youngest players can navigate through the wardrobe choices with ease. The variety is truly mind-boggling! From cute sweaters, stylish dresses to funky accessories - every piece promotes creativity and will keep your child engaged. This thrilling experience brings together elements of learning through play, making it an ideal choice among Games for Girls.
In conclusion, Owl and Rabbit Fashion stands tall among other animal-based fashion games in terms of versatility, engagement, and educational value. Whether your child dreams of becoming a fashion designer or simply enjoys interactive games, this outstanding offering has enough bells and whistles to captivate them from start to finish. Thus, when it comes to compelling Games for Kids, Owl and Rabbit Fashion unquestionably takes center stage!
What are the best online games?