Otaho Bird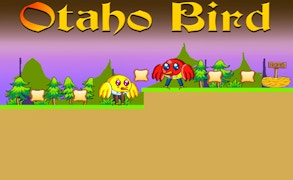 Otaho Bird
Description
In Otaho Bird, assume the role of a daring bird on a quest to collect all slices of bread scattered across various challenging levels. This 2D platformer tests your dexterity and precision as you weave through airborne enemies, dodge rotating blades, and sidestep raging fires. With 8 levels, each elevating in difficulty, your journey won't be easy but it sure will be thrilling.
How to play
Maneuver your feathered character using the "WASD" or "Arrow" keys. Jump with the "W" or "Up" arrow key and make your bird soar higher with a double jump by pressing these keys twice. Your goal is to snag every slice of bread before making your way to the exit door that leads to the next level.
Tips and Tricks
Mastering double jumps can help you scale obstacles more efficiently. Keep an eye out for unexpected enemy birds that may swoop down on your path. Remember, avoiding hazards is just as important as collecting bread slices.
Features
Audacious adventure across 8 different levels.
Action-packed platformer gameplay.
Precise controls for intricate maneuvers.
Cleverly placed hazards for added challenge.
Diverse enemy types that keep you on your toes.
What are the best online games?