Offroad Monster Truck Forest Championship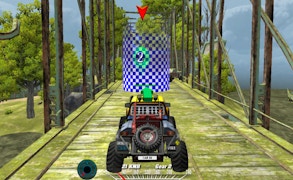 Offroad Monster Truck Forest Championship
Welcome to the adrenaline-pumping spectacle that is the Offroad Monster Truck Forest Championship. A monument in car games, it goes beyond mere racing, taking you on a wild ride through densely packed forests, where every corner is a test of your driving skills.
In this game, your beastly truck isn't just another vehicle; it's your lifeline. The immersive offroad driving experience with rugged terrains and winding paths will have you sitting on the edge of your seats. But remember, this isn't a casual drive but a high-intensity game of speed and skill against formidable AI opponents. Your objective? Be the fastest to arrive at the destination.
What sets this game apart from other typical driving games is its spectacular setting. You're not driving through city streets or monotonous highways, but a lush forest teeming with life. The stunning details are not just eye-candy but serve as dynamic obstacles that pose thrilling challenges.
Being an offroad championship, players need to master different terrain types. Mud pits can bog you down, swift stream crossings can send you off course while rocky patches require deft handling of the truck's suspension. Talk about variety!
This game is also something refreshing for fans of truck games, offering unique trucks each with different handling characteristics embodying the spirit of Offroad games. The trucks are customizable to ensure their performance matches your strategy.
In conclusion, if you are looking for excitement and challenge, Offroad Monster Truck Forest Championship is a must-play for racing enthusiasts who crave more than tarmac beneath their tires.
Come along and navigate these beasts through breathtaking landscapes all in pursuit of one thing: victory! Fasten your seatbelts for an unforgettable journey through forests, where every turn brings new excitement and challenges.
What are the best online games?