Offroad Masters Challenge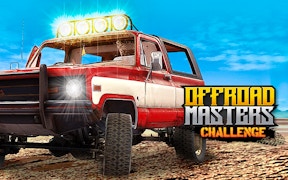 Offroad Masters Challenge
Have you been eagerly seeking a racing experience that breaks away from the conventional paved race tracks? Well, your search ends here with the thrilling, Offroad Masters Challenge, a game that sublimely merges the thrill of car games and the intensity of offroad games.
The game offers an irresistible odyssey across continents and diverse landscapes, pushing your driving skills to the limit in an offroad truck. But that's not all - it also brings in elements of simulator games, enabling players to indulge in a realistic driving experience while enjoying the adrenaline rush associated with racing games.
Besides, it's not just about getting behind the wheel and driving around. The game provides opportunities for players to develop their career with their offroad vehicles or to simply take part in a free-wheeling SUV adventure. If that's not enticing enough, daredevils can crash their trucks in a sprawling offroad car crash arena!
The level of customization offered is another intriguing aspect of this game. Players have access to engine modifications, tire swapping, and more - flexibility that is rarely found in typical car games or even most truck games.
What sets Offroad Masters Challenge apart from other similar driving games, is its dynamic play mode options. Gamers can embark on this exciting journey alone or team up with a friend for an exhilarating two-player mode.
In conclusion, Offroad Masters Challenge perfectly captures the essence of offroading and is an absolute must-try for those hungry for a more raw, gripping, and engaging motor gaming experience.
What are the best online games?