Office Love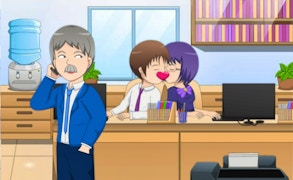 Office Love
Feel the heart-thumping thrill of sneaky office romance in the dynamic arcade tap game aptly titled Office Love. This vibrant offering in the widely-popular clicker games genre, aptly teases your reflexes and tests your timing, offering a playful simulation of stolen kisses while dodging the vigilant gaze of the boss.
The catchy premise of Office Love is pretty straightforward: pull off as many stealthy smooches as you can, and for as long as possible, while ensuring the stickler-for-rules boss, distracted only momentarily by his phone, doesn't catch you! The simplicity of this scenario is what makes it a must-try amongst free-to-play tap games.
The fantastic graphics and intuitive controls make Office Love an engaging experience. You need just one hand to tap your way through this love-laden labyrinth - a manifestation of what arcade games do best: easy to pick up yet hard to master! Every successful click brings a satisfying surge of adrenaline, matched only by the mortifying jest when you're caught.
No less impressive is how Office Love mixes up its gameplay. The predictability of the boss's distractions varies, continually pushing players to adapt their strategies on-the-fly. This unpredictability keeps players on their toes and endows every session with heart-pounding tension – prime characteristics that make great arcade gaming.
In conclusion, the sublime blend of simplicity and excitement gives Office Love an addictive allure undeniable to ardent fans of tap games or clicker games. So put your stealth skills to test in this wonderful world where office protocol takes a backseat for love!
What are the best online games?
Tags