Noobpool and Noobspider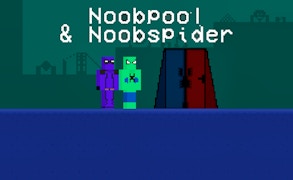 Noobpool and Noobspider
Description
Welcome to the thrilling world of Noobpool and Noobspider, an exciting adventure game set in a city teeming with peril. Our heroes must navigate their way through various obstacles, evading monsters and dodging gunfire to reach the safe zone. Remember, teamwork is key; both Noobpool and Noobspider need each other to unlock doors, so ensuring they both survive is crucial to progress within the game.
How to play
To steer Noobpool and Noobspider through dangers, use your keyboard's directional arrows or WASD keys. To pick up keys and unlock doors, simply guide your characters towards them. The game progresses as you navigate successfully through the cityscape, evading monsters and gunfire. But remember - don't try opening a door without your partner!
Tips and Tricks
Focus on teamwork between Noobpool and Noobspider; they can't survive without each other. Be cautious around corners, as monsters might be lurking unexpectedly. Make sure to avoid gunfire by swiftly navigating around it or taking cover behind objects.
Features
Two-player mode: Share the excitement with a friend as you each take control of a character.
Pixellated graphics: Enjoy the retro feel of pixel art setting.
Challenging gameplay: Perfect balance between skill-based evasion challenges and puzzle-solving elements.
Diverse environment: Explore various cityscapes filled with diverse obstacles and enemies.
What are the best online games?