Noob VS. Choo-Choo Charles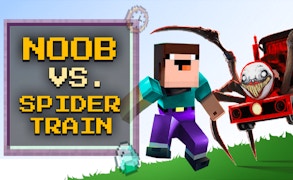 Noob VS. Choo-Choo Charles
Description
Embark on a thrilling race against time in Noob VS. Choo-Choo Charles, an electrifying runner game. You play as Noob, evading the horrifying yellow spider and the relentless train, Charles. Evade spine-chilling threats while collecting coins and overcoming obstacles in this intense game with graphics comparable to Temple Run Oz and Jungle Run. With each level, the anticipation mounts as you unlock new characters and levels. The adrenaline-fueled excitement never fades in Noob VS. Choo-Choo Charles.
How to Play
The controls for Noob VS. Choo-Choo Charles are intuitive and easy to understand. Use your fingers to navigate Noob, dodge obstacles, collect coins and keep a safe distance from the aggressive train chasing you whilst evading the terrifying yellow spider. Progress your strategy as you unlock new levels and characters with varied abilities - all aiming to survive the longest in this relentless pursuit.
Tips and Tricks
Early collection of coins for unlocking characters is a smart move in Noob VS. Choo-Choo Charles. Choosing the right character for each level significantly affects survival rates, so research their abilities well! Look out for hidden easter eggs for bonus scores but remember, survival is paramount - cleverly using obstacles can provide a momentary respite from Charles.
Features
Detailed Pixel Art: Richly detailed environments rendered in appealing pixel art style.
Meticulous Level Design: Each level presents unique challenges requiring strategic gameplay.
Variety of Characters: Exciting range of characters to unlock and play.
Interactive Elements: Interesting elements and collectibles hidden for players to discover.
What are the best online games?
Tags