Noob Trolls Pro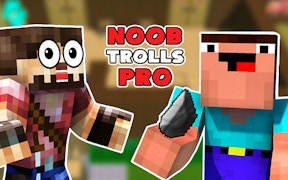 Noob Trolls Pro
Welcome to the world of Noob Trolls Pro! A whimsical addition to the compendium of fun-games out there, and a must-try for fans of games-like-minecraft. Prepare to embark on a hilariously chaotic journey filled with cunning pranks and pixelated mischief.
The premise will hook you immediately. As Nubik, the adorable noob, you are set on a mission to troll the Pro - a seasoned minecraft veteran who's busy building his architectural masterpiece. Simple? Not really. The catch here is not to get caught while setting traps and pranks in the Pro's house. This element of suspense adds a whole new layer to this pixel-game, making it all the more engaging.
The variety of pranks available is what truly sets this game apart. From blowing up TNT that can level mountains, to spawning zombies right in the heart of Pro's house - the creativity and amusement is endless. You can even craft invisible holes for those unsuspicious pros. Each trick up your sleeve feels satisfyingly devious, providing hours of rib-tickling entertainment.
Moreover, Noob Trolls Pro also offers unique progression mechanics. With each new level, the Pro's house in Minecraft multiplies both in size and complexity with new rooms and structures. This provides gamers with fresh challenges and more opportunities for trolling as they progress.
In conclusion, whether you're a seasoned gamer or new to arcade, Noob Trolls Pro is sure to bring laughter and fun into your gaming sessions with its engaging gameplay mechanics and humorous concept.
If you really enjoy games that are innovative yet rooted in familiar games-like-minecraft, then this is a game you cannot afford to miss. Step into Nubik's pixelated shoes and embark on an adventure of laughter, fun, and devious pranks!
What are the best online games?