Noob Huggy Winter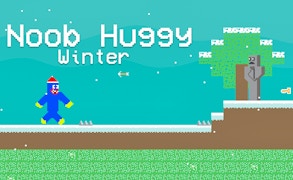 Noob Huggy Winter
Description
Brace yourselves for game 2 of the Noob Huggy Winter series! As a noob huggy wearing a festive Christmas hat, navigate through a snow-drenched forest, avoiding perilous slime and thorns. Watch out for bees - their sting can be deadly! Your mission is to collect diamonds, retrieve the key, and open the doors without succumbing to the chilling winter hazards.
How to play
Take control of the protagonist using "WASD/Arrow Keys" for movement. Mobile users can utilize Touch Control. Mastering the art of double jump, an activated feature in this game, is crucial for your escape. Collect diamonds and find the key to progress through each door leading to new adventures.
Tips and Tricks
Keep your eyes peeled for those pesky bees and avoid them at all costs! Utilize your double jump ability to leap over any obstacles or threats in your path. Remember, securing those keys is vital for opening doors - so don't miss any!
Features
An enticing snowy winter landscape full of challenges
Precise touch controls optimized for both PC and mobile play
An active double jump feature enhancing gameplay dynamics
A riveting quest involving diamonds collection and door unlocking
What are the best online games?