Noob Fall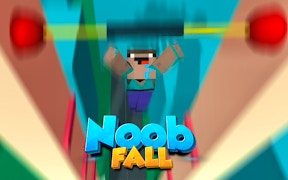 Noob Fall
Delve into the pixelated world of Noob Fall, a compelling addition to the thrilling genre of Arcade Games. This captivating title combines elements from popular Skill Games, Escape Games, and even the occasional nod to Police Games. Rendered in an old-school pixel style reminiscent of classic Minecraft Games, it's no wonder gamers across the globe are sitting up to take notice.
Noob Fall plunges you into a colorful, retro-style 8-bit universe where quick thinking and nimble fingers are your keys to survival. Using a sturdy big stick, players embark on an adrenaline-packed journey to guide Noob across daunting pixel landscapes, intricate traps, and perilous pitfalls. The game encourages and strengthens your ability to strategize under pressure, making it stand out among contemporary Skill Games.
As fans of Escape Games will appreciate, Noob Fall cleverly integrates elements of problem-solving and escapism. Very reminiscent of the heartbeat quickening sensation every time law enforcers chase after us in adrenaline-fueled Police Games. You don't just have to navigate through obstacles but also race against the ticking clock. So keep your wits about you!
The game's visual style is heavily influenced by classic Minecraft Games. Get ready for an exciting ride through chunky, cubist landscapes made up of skillfully arranged pixels that have come to define this beloved aesthetic in video game design.
In conclusion, Noob Fall is a vibrant concoction of fast-paced gameplay and retro aesthetics that caters beautifully to fans of unique arcade experiences. It's an excellent choice for those seeking a game that tests their reflexes while engaging them in a thrilling journey against time.
What are the best online games?