Noob Escape: one level again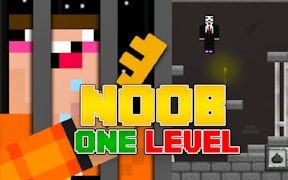 Noob Escape: one level again
Immerse yourself in the captivating world of Noob Escape: one level again, an exciting addition to the realm of adventure escape games. If colorful, engaging pixel games enthrall you and if your fingers itch for a heart-pounding challenge, then this game is a must-try. It's a true testament to your gaming prowess, an enchanting blend where strategy meets action, part of the resurging Skill Games genre reigning in our hearts and consoles.
In this mesmerizing narrative, our beloved hero Noob finds himself imprisoned. But despair not! This game offers 100 intriguing levels leading to an epic boss fight against Cheater. Step into Noob's shoes, break free from the holds of confinement, and embark on an enticing journey full of strange jailbreak levels and adrenaline rush.
This isn't just another sequel in the popular Noob vs Pro vs Hacker vs God series. It's a whole new ball game with its unique twist to the grand escape narrative. With each level outwitting the last, players will find their skills being honed as they breach barriers, crack codes, and navigate their way through one relentless challenge after another.
Noob Escape: one level again is not just a game but an experience that tests your wit and agility in equal measures. The thrill of escape coupled with top-notch pixel art visuals makes this game a timeless classic among pixel games. So what are you waiting for? Dive into this immersive world where every level is a new adventure waiting to unfold!
If you think you have what it takes to master such Skill Games, gear up for this epic escape saga that promises unmatched excitement at every turn and truly represents the spirit of Adventure gaming!
What are the best online games?