Ninja Warriors Puzzle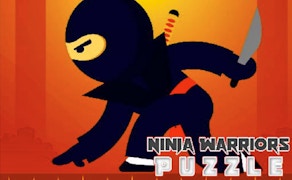 Ninja Warriors Puzzle
Prepare for a mind-bending journey into the world of ninja games, perfect for those seeking out games for kids that double as engaging brain games. Ninja Warriors Puzzle is the latest entrant in this exciting genre, offering up intriguing challenges that combine leisure with learning.
The beauty of Ninja Warriors Puzzle lies in its simplicity and accessibility. It's a free online game designed to stimulate your child's mind, enabling them to flex their problem-solving muscles while indulging their fascination for mystical ninja warriors. The game presents 6 stunning visuals across three varying levels of difficulty – easy, medium, and hard, catering to both novices and seasoned puzzle solvers alike.
This ninja game elevates the classic drag-and-drop mechanic to an artful dance of strategy and logic. To solve each puzzle, players need to create an image using the scattered pieces. It's like piecing together a story from a spy's secret coded message; every move you make brings you one step closer to unveiling the tale of the brave ninja warriors.
Kids will absolutely love the sheer fun of playing this game for kids. With every solved puzzle, they will experience a sense of accomplishment, enhancing their confidence and cultivating a love for learning. As parents or mentors, nothing compares to seeing young minds grow and develop while having fun!
Ninja Warriors Puzzle isn't just another game - it's a brain gymnasium cleverly disguised as an entertaining ninja adventure. So why wait? Engage your child's mind with these incredible brain games. It's time to start solving puzzles with our stealthy heroes and join in their exciting exploits! Enjoy this fantastic journey where fun meets learning!
What are the best online games?