Ninja Star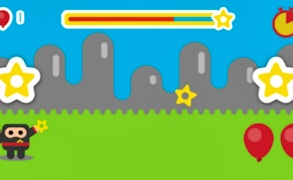 Ninja Star
Unleash your inner warrior as you skillfully toss razor-sharp stars in Ninja Star, an exciting addition to the universe of ninja games and games for kids. Developed by Nau.kids, this arcade-style gem presents a vibrant fusion of ball games with a ninja twist that is great fun for kids of all ages!
In true arcade fashion, Ninja Star catapults players into an authentic environment, where they must prove their prowess by hitting as many balloons as possible with ninja stars. With every successful hit, players experience the ecstatic thrill that only the best ninja games can deliver.
The game's premise is simple, yet engaging. You are a star-wielding ninja on a mission to pop balloons. As mundane as this may sound, the game's delightful execution makes it anything but ordinary. Each throw requires precision and timing, inviting players to perfect their ninja reflexes in one of the most captivating Games for Kids.
Packed with eye-catching graphics and engaging gameplay, Ninja Star also delivers an added educational layer. Beyond being incredibly entertaining, this gem subtly boosts hand-eye coordination skills – a welcomed bonus for any parent looking to sneak in some learning benefits in their kid's playtime.
In the crowded realm of ninja games, Ninja Star brings a fresh spin on traditional ball games. It artfully balances fun and skill-building components making it not just a game but an adventurous learning journey.
If you are in quest of games for kids that are immersive yet beneficial or simply want to pacify your love for ninjas in arcade style spirit, Ninja Star stands ready to hit the mark! It takes you out from the ordinary run-of-the-mill games and gives you an entertaining platform filled with action-packed moments.
What are the best online games?
Tags