Ninja Jump Game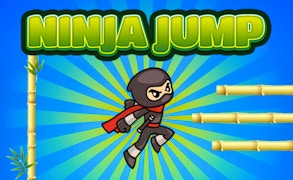 Ninja Jump Game
If you're a fan of arcade games, and in particular, ninja games and clicker games, then the Ninja Jump Game is something you absolutely can't afford to miss.
This game hurls you into the realm of adrenaline, where every leap matters, and your reflexes are tested to their utmost limit. You are a ninja in this game, scaling the heights with your athletic prowess and the aid of just a click.
The concept is simple yet addictive - keep jumping to venture higher and higher, while gathering as many points as possible. However, don't let this simplicity fool you. The Ninja Jump Game is packed with so much excitement that once you start playing, it's difficult to stop.
The graphics of this game are vibrant; there's nothing like an action-packed backdrop that brings out the 'ninja' in you. And when it comes to its controls - they're as smooth as a ninja's stealthy move.
Unlike some other arcade games which can feel repetitive after a while, this game keeps the challenge alive with increasing difficulty levels. So whether you're an experienced gamer looking for some extra thrill or a beginner who appreciates straightforward gameplay mechanics, Ninja Jump Game caters to all.
If you're scouring for high-quality ninja games or addictive clicker games, look no further. Ninja Jump Game has got all your gaming desires covered! Embark on this exciting jumping journey and get set to rise above!
To wrap it up, Ninja Jump Game secures its spot in the hall of fame of top-tier arcade gaming experiences. So unleash your inner ninja and leap into an experience that will keep you hooked for hours on end!
What are the best online games?