Ninja Blocks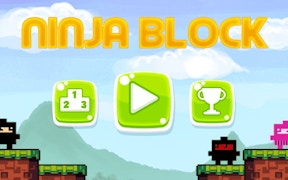 Ninja Blocks
Description
In Ninja Blocks, you embark on a daring mission to rescue the pixel princess, who has been captured by foes. The game presents a thrilling experience, blending action and strategy with mechanics similar to Angry Bird. Using your ninja skills, you must fight through various levels filled with enemies, all set in various block-like environments.
How to Play
The controls are simple and easy to grasp. Use the mouse or touchscreen to aim your attack, then release to launch your ninja character at the enemy blocks. The strategy lies in hitting enemies in a way that will cause a domino effect, knocking out multiple foes. Progress through increasingly difficult levels to finally save the princess pixel.
Tips and Tricks
Analyze the positioning of enemies before launching an attack for maximum damage. Utilize the environment as it can aid in taking down multiple enemies at once. Always aim for higher point blocks first as this can drastically increase your overall score.
Features
Detailed pixel-art graphics providing an immersive retro gaming experience.
Addictive gameplay mechanics similar to Angry Birds.
Progressive difficulty ensuring a constant challenge for players of all skill levels.
A variety of different worlds and challenging enemies enhance game diversity.
An intriguing storyline involving a princess in distress and a ninja hero.
What are the best online games?