Nina - Surfer Girl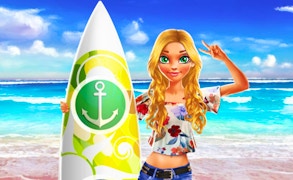 Nina - Surfer Girl
Get ready to ride the waves of fun with Nina - Surfer Girl – a stellar pick in the Games for Girls genre. This game is not just about surfing; it's a rich blend of exciting dress up games and interactive makeup games, making it a perfect choice for those who crave creativity and adventure.
Start off by helping Nina design her very own surfboard. Showcase your artistic side as you decorate the board with an array of dazzling colors and cool patterns. But that's not all! Nina - Surfer Girl stands out in its genre as players also get to play makeup artist, adding an extra layer of glamour to the vibrant atmosphere of the beach.
The dress up games element is undoubtedly one of this title's standout features. From trendy bathing suits to stylish sunglasses, the range of clothing options will make every fashion enthusiast's heart skip a beat. The fun doesn't stop there though - you even get to choose Nina's hairstyle, adding an extra layer of personalization to your gameplay experience.
The graphics are vivid and colorful, capturing the upbeat energy and exciting beach vibes. Easy-to-navigate controls ensure that players of all ages can enjoy Nina – Surfer Girl, making it a true gem within Games for Girls.
This game successfully combines elements from both dress up games and makeup games into one fun-packed adventure. With its thrilling surfing action, creative design opportunities, and stellar makeover sessions, Nina - Surfer Girl guarantees endless hours of fun for girls around the world.
In conclusion, Nina - Surfer Girl provides a unique blend of creativity, style and adventure that sets it apart from other Games for Girls. Its intuitive interface and engaging gameplay make it an ideal choice for those seeking to dive into the world of dress-up and makeup games.
What are the best online games?