Nina - Great Summer Day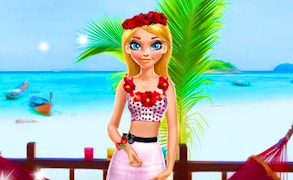 Nina - Great Summer Day
For those in search of enthralling Games for Girls, look no further than the wonder-filled world of 'Nina - Great Summer Day'. This exquisitely designed game expertly intertwines elements of dress up games and makeup games, offering endless hours of fun-filled entertainment for kids.
The story centers around Nina, a dynamic and sporty student whose summer is filled with sun, sports, and fashion. The allure of the deep blue sea beckons as players join her in thrilling diving adventures, adding a unique layer to this well-rounded gaming experience.
The highlight within the world of Nina - Great Summer Day is most definitely the endless array of sartorial choices at your fingertips. Embodying all the best aspects of dress up games, this feature allows players to channel their inner stylist and help Nina pick a stunning party outfit. With your guidance, Nina's appearance will leave not only her boyfriend but every player completely awestruck.
Beyond dressing up, this game also taps into the exciting realm of beauty and makeup. Building on those precious moments spent in front of the mirror prior to a big event, these makeup games features allow users to apply blushes, eyeshadows and lip colors that enhance Nina's natural beauty while adding a touch of glamour.
'Nina - Great Summer Day' is more than just an ordinary dress-up or makeup game; it's a captivating journey that encourages creativity while helping develop aesthetic skills. This game represents an ideal choice for kids who love fashion, beauty, adventures and loads of fun! So why wait? Embark on this sun-soaked adventure with Nina as she dazzles her way through the most spectacular summer day ever!
What are the best online games?