Nina Adventures 2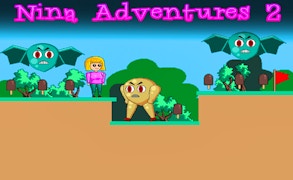 Nina Adventures 2
Description
Step into the exciting world of Nina Adventures 2, a captivating 2D platformer where you explore as a charming heroine on a quest to gather all chocolate ice cream bars. Beware of the perilous obstacles such as eerie monsters, flying creatures, saws, and spikes that aim to halt your progress. With an incrementally challenging game-play spread across 8 thrilling levels, this sequel to the beloved "Nina Adventures" series offers an immersive gaming experience.
How to Play
Navigate Nina using 'WASD' or 'Arrow' keys. Get a boost in your leaps by using the double jump feature - simply press 'W' or 'Up' arrow key twice. Your ultimate goal is to bypass hazards and beasties, collect all the chocolate bars and touch the red flag to advance to the next level.
Tips and Tricks
Timing is everything in this game - practice your jumps and double jumps for flawless navigation. Always anticipate danger - paying close attention to upcoming threats can save you from losing a life. And remember, slow and steady can sometimes win the race.
Features
Cute Anime-style Graphics: Embrace the vibrant visuals that amplify your adventure.
Intriguing Obstacles: From flying creatures shooting bullets to ground saws and spikes, challenge yourself with diverse obstacles.
Varying Difficulty Levels: Brace yourself for intensifying challenges as you progress through each level.
Addictive Gameplay: With a compelling storyline and engaging characters, get hooked onto this captivating game.
What are the best online games?