Nice Diamont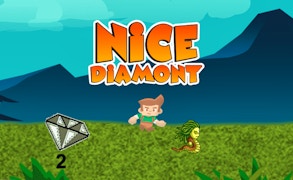 Nice Diamont
Description
Immerse yourself in the captivating world of Nice Diamont, a game filled with thrilling adventures and heart-pounding action. The goal of the game is simple yet challenging: gather as many diamonds as you can while avoiding deadly encounters with venomous snakes and spiders. Each diamond collected takes you one step closer to victory, but remember, one wrong move could be your last. Let's see how long you can survive!
How to Play
The primary objective of Nice Diamont is pure survival. Control your character using your mouse to navigate through the treacherous terrain and collect diamonds. Click to pick up diamonds and evade dangerous creatures that cross your path. Continuous progression earns you higher scores, so ensure you're always on the move, and don't forget: timing is everything!
Tips and Tricks
Surviving in Nice Diamont requires strategy. Strike a balance between collecting diamonds and evading critters: being greedy can cost you dearly! Always keep an eye out for upcoming danger and react quickly. Use your environment tactically - lure creatures away from clusters of diamonds for safer retrievals.
Features
Captivating Gameplay: Balanced mix of action and strategies keeps players hooked.
Easy Controls: Simple mouse-click controls make it easy for all age groups to play.
Persistent Scoring: Progressive scoring system adds to its competitive nature.
Addictive Progression: High-score chase encourages longer play sessions.
What are the best online games?