New Doodle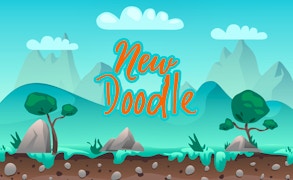 New Doodle
Description
Dive into the wonderful world of New Doodle, a captivating classic arcade game that's sure to keep you entertained for hours! In this skill-based game, you take on the role of a delightful doodle creature with the amazing ability to fly. The challenge is simple: navigate your way around various obstacles and keep yourself aloft in a constantly changing environment.
How to play
You can control your doodle character via arrow keys or by simply touching the screen. Timing and precision are crucial in this game. Ascend by pressing the up arrow or tapping and descend by releasing. Avoid crashing into obstacles as it will end your flight. The longer you stay flying, the higher your score.
Tips and Tricks
Practice makes perfect, so keep playing to master control over your character. Use short taps or quick arrow key presses for controlled ascends, and learn to time your descents carefully to avoid oncoming hazards. Also remember that speed can be both an ally and enemy here, so manage your flight speed cautiously.
Features
Classic Arcade Gameplay: Simple yet challenging gameplay reminiscent of classic arcade games.
Skill-Based Challenges: The game offers numerous skill-based challenges that test player's timing and precision.
User-Friendly Controls: The game features user-friendly controls such as arrow keys or touch system for easy navigation.
Doodle Character: Play as a whimsical doodle character with a unique ability to fly.
What are the best online games?