Nerdy Girl Fat to Fit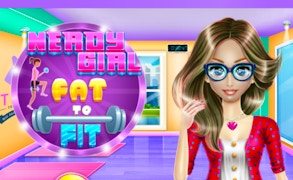 Nerdy Girl Fat to Fit
Welcome to our lighthearted body positivity gaming adventure, Nerdy Girl Fat to Fit. A notable addition to the games for girls category, this game endeavors to inspire its young players by encouraging them to embrace their unique inner beauty while promoting healthy lifestyle habits. From designing her wardrobe in the imaginative world of dress up games, guiding her through energetic workouts in the dynamic spectrum of gymnastics games, to pampering her at the serene virtual spa, your role as a compassionate mentor is both engaging and rewarding.
The game's premise is simple yet imbued with an underlying depth. You are provided an opportunity to help a nerdy girl realize her innate potential by guiding her transformation both physically and psychologically. The use of real-life scenarios enhances the gameplay, making it realistic and relatable for young girls navigating their adolescent years.
As you plunge into the invigorating realm of the gym, you're not just a trainer but a confidant, fostering self-confidence in our heroine through fitness regimes tailored for your player character. This venture into gymnastics games is intuitive and fun, seamlessly integrating the theme of fitness with enjoyable gameplay mechanics.
Spiraling further into the journey, you encounter an array of vibrantly vivid outfits perfect for a fashion runway - undoubtedly a feast for any seasoned dress-up gamer. The dress up games element is meticulously imagined and beautifully detailed. It brings forth creativity and style while emphasizing self-expression, taking dress-up gaming experiences to a whole new level.
The spa treatment sessions add an extra layer of luxury that wraps up this heartwarming tale perfectly. An unmissable gem in the genre of games for girls, Nerdy Girl Fat to Fit delivers an endearing message wrapped up in enjoyable gameplay mechanics and stunning visuals.
Remember: you have a crucial role in helping this nerdy girl discover who she truly is, beyond societal standards. Are you ready for this heartwarming adventure?
What are the best online games?