Nail Doctor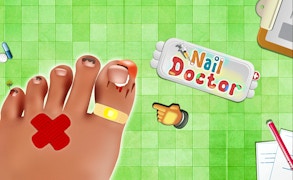 Nail Doctor
When you're idle you may find yourself looking down at your feet and wondering about them or what could happen to them like the ailments of Nail Doctor. Games provide a lot of coverage when it comes to the medical field and even foot specialists need their opportunity to shine. After all, we spend most of our lives perched on our feet so it makes sense that they would get injured or afflicted over time. The nails are among the most commonly affected parts of the feet and you get to see for yourself just how bad they can get and what you can do to fix them.
About Nail Doctor
There are plenty of medical games that take a cartoon approach while also trying to be super graphic to convey the severity of medical problems. While foot issues may not be as lethal as other parts of the body when they get affected, they can still be quite painful and very detrimental to living your life. As such, the procedures to treat them can be quite painful as you're dealing with a very sensitive part of the body. As you play this game, you may find yourself feeling for the patient as you attempt to cure a foot that has been hit with multiple problems.
How to Play
Nail Doctor is a 2D medical game about treating the nails on a foot using the mouse. You can navigate the UI and your tools with the cursor and then select what you want by clicking the Left Mouse Button. You can also drag certain tools by holding the button and moving the cursor. The goal is to treat all the different ailments of the nail before wrapping it up and sending the patient on their way.
When you start the game, you get to choose which person's foot you'd like to treat. After you do, you be presented with a close-up of the nail showing you all the different issues. You'll have a medical bag at the bottom of the screen which has all the tools you need. To select through the different batches of tools, just click on the medical bag. When you select a tool, you'll receive a hint telling you what part of the nail to use it on. You can view the checklist on the right side to see if you've used the tool enough.
Additionally, you can interact with the nail directly. You need to do this to select and remove elements like needles and bacteria. Once you've fully treated the foot, you'll get to play a celebratory balloon mini-game to celebrate.
Tips and Tricks
This is a game that has no particular order to follow or any punishment for making mistakes. You can't move on until you use the tool correctly, so just follow the prompts and you'll have no troubles.
Game Details
Developer: GameiMax
Platforms: Web Browser (PC and mobile), iOS, and Android
Languages: English

Gameplay Footage
FAQs
Is Nail Doctor kid-friendly?
This game presents the concept of performing treatment and light surgery on a toenail quite colorfully making it easier to take in.

Games similar to Nail Doctor
As a medical game, this title can be found in the Operation and Mobile Games categories on GamePix. For more of the same, you can also play Emergency Surgery, Funny Throat Surgery, Brain Doctor, and Tentrix.
What are the best online games?