My Wedding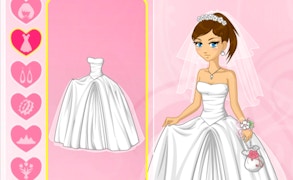 My Wedding
Immerse yourself into the extravagant world of wedding fantasies with the sensational puzzle game, My Wedding. It's a delightful amalgam of dress up games, hairdresser games, and princess games, designed to cater to every style enthusiast's dream.
The objective is simple but intriguing - create the perfect bride look for a dream wedding. The premise might sound straightforward, but remember, the devil is in detail. It is where your creativity meets strategy, as you are tasked with matching the dress with beautiful accessories and finishing it off with the perfect hairstyle.
This is not just another puzzle game; it's a journey through various fashion styles and trends. Will you go for a classic silhouette or a dramatic ballgown? Will you opt for an intricate up-do or flowing waves? The choice is yours!
The game immerses players in an enthralling world of style, elegance, and beauty. It does not merely settle for the archetypical aesthetics found in many dress up games. Instead, it presents opportunities for gamers to explore unique combinations that can make their bride stand out among others.
In terms of gameplay complexity, My Wedding strikes a balance between challenge and accessibility. It doesn't bombard players with overly complex puzzles but subtly builds up difficulty. Remember that every single accessory can change your bride's look dramatically - so choose wisely!
Packed with variety in clothing, accessories, hairstyles - this game is an absolute treasure trove for those who appreciate hairdresser games or princess games. Don't just take my word for it - dive into My Wedding and unleash your inner stylist!
In conclusion: For anyone who loves fashion, styling, or just enjoys a good puzzle game, My Wedding is sure to impress. Its elegant charm mixed with its challenging gameplay makes it one of the most engaging style-inspired puzzle games out there.
What are the best online games?