My Supermarket Story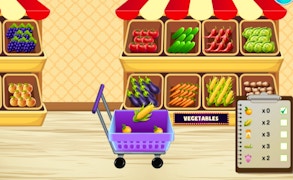 My Supermarket Story
Get ready to dive into the vibrant and bustling world of My Supermarket Story, an irresistible blend of Games for Girls, Games for Kids, and Educational Games. This dynamic game will provide your kids with hours of entertainment, all the while teaching them valuable skills associated with management and entrepreneurship.
In My Supermarket Story, the players are thrust into the fast-paced environment of supermarket management. From grocery shopping to handling the store's income and expenses, this Simulator Game is an accurate rendition of managing a real-life supermarket. The game offers a unique, hands-on learning opportunity for children to grasp basic financial concepts - making it one of the top educational games on the market.
The supermarket isn't just about groceries. Toys, clothes, and even a mini-game where your little ones can practice their fruit-slicing skills add a bit more fun to the already engaging gameplay mechanics. It's not just a game; it's a fun-filled educational experience that will equip kids with skills they can apply throughout their lives.
The beauty of this Management Game is that it appeals to both girls and boys alike. Whether it's restocking shelves or tracking down cost-effective suppliers, there's something magical about watching your virtual supermarket grow under your stewardship. Fun graphics and intuitive controls make My Supermarket Story easy for young gamers to pick up but challenging enough to keep them engaged.
In summary, My Supermarket Story is more than an ordinary game; it's an interactive and stimulating world where children learn as they play. Be sure to check out this unique blend of education and entertainment in one engaging package!
What are the best online games?