My Salon Slacking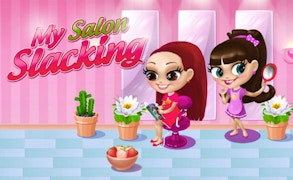 My Salon Slacking
Welcome to the wonderful world of My Salon Slacking, the makeover game that's taking the Games for Girls category by storm. It's not just a hairdressing game. It's not just a dress up game. It's both! And it's done with style, personality, and tons of fun!
Prepare to dive into a colorful, vibrant universe where every girl can express her creativity and style. Julie has stepped into your beauty salon, looking for a total makeover. And you, as the player, have all the tools you need to turn Julie into a fashion icon.
My Salon Slacking stands out among Hairdresser Games and Dress Up Games because of its remarkable graphics. This isn't your average pixelated environment; it's a richly detailed and deeply engaging world that brings Julie's salon to life in brilliant color and detail.
The customization options are another aspect of this delightful game that shakes up the usual formula. You're not limited to a few hairstyles or outfit choices; the possibilities are nearly endless, allowing players full control over their creative vision.
My Salon Slacking isn't your ordinary kids' game; it's an immersive experience that promotes creativity while offering hours of fun! As you navigate through this enthralling world of styling, you'll be captivated by its charm and impressed by its user-friendly design.
In conclusion, this is more than just fun: it's inspiring. A little stylist could easily lose hours within this colorful digital playground — pulling together outfits, experimenting with hairdos, and seeing their creative choices come to life on screen.
Experience the joy of creativity with My Salon Slacking! Whether you're already a fan of dress up games or exploring them for the first time, you're bound to find something special in this little gem.
What are the best online games?