My Fairytale Dragon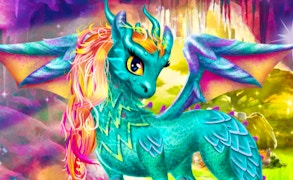 My Fairytale Dragon
If you're on the look for exciting Games for Girls and engaging Games for Kids, then prepare to step into a realm where fantasy meets fun, with My Fairytale Dragon. This charming dragon game allows children to embark upon a mystical adventure like none other, blending interactive gameplay with fanciful storytelling that keeps young minds enthralled.
As the name suggests, My Fairytale Dragon introduces players to a magical world where they become a caring fairy tasked with looking after a majestic dragon. This delightful premise offers an enchanting twist on traditional dragon games, creating an environment where kindness and creativity flourish.
This game is not just about pretty scales and gleaming wings; it's also about nurturing love and responsibility in our young ones. As they dress up their dragons in an array of colorful costumes and accessories, children also learn valuable lessons about caring for another creature. This nurturing aspect of the gameplay brilliantly demonstrates how 'fun' and 'educational' can co-exist in the realm of Games for Kids.
Fancy graphics and whimsical music only enhance the overall charm of this game, making it even more appealing for kids. The controls are super intuitive, so even those little fingers won't find it tricky to navigate through this magical world of fairies and dragons.
In conclusion, if your little ones love fantasy worlds filled with magic and mythical creatures, then they will undoubtedly adore My Fairytale Dragon. This game manages to blend fun gameplay with thoughtful lessons on care and responsibility, making it a worthwhile addition to your collection of Games for Girls.
What are the best online games?