Mr Toro 2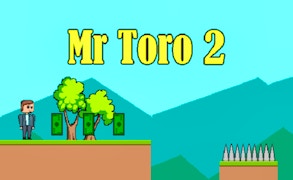 Mr Toro 2
Description
Immerse yourself in the thrilling adventure of Mr Toro 2, an engaging 2D platformer. In this exhilarating sequel, your primary objective is to gather money and dodge a host of menacing foes including dangerous spikes, deadly saws, and relentless flying robots. With each level, you must reach the red flag to advance while the difficulty gradually escalates throughout the game's eight challenging stages.
How to play
Maneuvering Mr Toro is effortlessly simple with your choice of "WASD" or "Arrow" keys for movements. To execute a double-jump action, press the "W" or "Up" arrow key twice. Your strategic decision-making combined with precision and timing will guide your success in reaching the level-ending red flag.
Tips and Tricks
Mastering the art of double-jumping is crucial for overcoming higher obstacles and evading attacks from enemies. Plan your moves carefully; rushing through levels may lead to unexpected traps. Be mindful of both airborne and ground-based threats as you progress through this challenging adventure.
Features
A continuation of the popular "Mr Toro" game series with an exciting new storyline.
A thrilling platformer environment with eight progressively challenging levels.
A broad array of enemies adding an extra challenge to your quest for victory.
Simple, intuitive control system perfect for both newcomers and experienced players.
What are the best online games?